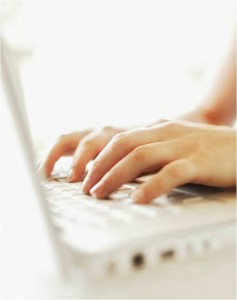 Reader question: How do you stay dedicated to your writing? Do you force yourself to write every day? Do you have a writing schedule?
Okay, don't throw stones at me, but I've never had to force myself to write. In fact, I find the opposite to be true; I usually have to force myself to stop writing.
This is not to say that the words always come easily. They don't. I experience the same frustrations and challenges that every other writer faces. But because I love writing, it never feels like a chore that I have to force upon myself.
I do have a writing schedule that I try to stick to, but it's flexible because, let's face it, creativity can be an elusive bugger. I generally write first thing in the morning, since that's when my brain is at its sharpest. (The coffee also helps). When my mind feels numb and the ideas dry up, I stop. Some writing sessions might only last an hour. Others might last ten. For me, having the freedom to stop is important because I'd rather write 100 inspired words than 1,000 that are forced and will end up being deleted.
Of course, there are days when I'm not feeling creative at all. On those days, I give myself space. If I end up at my computer, great. If I don't, well, there's always tomorrow.
How do you stay dedicated to your writing?