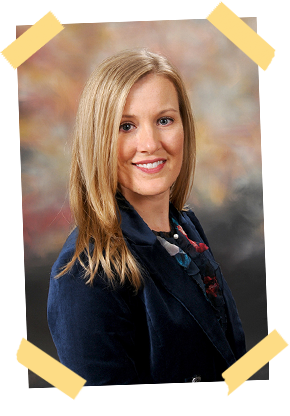 Professionally, I spent a decade searching for "the perfect job." I worked for a gamut of companies, from small start-ups to Fortune 500s, selling everything from vaccines to virtual worlds. I've had some glamorous experiences along the way—lunches with Alec and Billy Baldwin, an awards event with the cast of The Sopranos, an impromptu meeting with Tommy Hilfiger—and some intense ones too—like teaching a room full of doctors about immunology (what do I possibly know about immunology that they don't?!), holding my breath as I demoed beta software for a room full of business execs, and training classrooms full of hungry sales reps how to sell. What did I learn from it all? That there's no such thing as "the perfect job." Each has its ups and downs but I've learned many valuable skills along the way and pushed myself way beyond what I thought possible.
Despite all of the amazing things I've gotten to do in my professional career, I've felt called to write since I was a little girl. I crayoned my first novella, The Boy and Girl Got Married, when I was 6 years old—and writing has been my passion ever since. In 2011, I founded Dreamspire Press so I could follow my writing dream and inspire other writers to follow theirs. Today, I split my time between my fiction projects and freelance work. And while I still believe that there's no such thing as "the perfect job," this balance has helped me discover something even better: professional happiness.


 When I'm not blogging or working on my latest manuscript, you can find me writing for lifestyle, travel, and literary sites. Here are some of my recent clips:
I wanted to tell you how helpful your article, "How to find an Editor: Do your due diligence," was for me as I begin my new career as a copy editor.  Those are four great resources you listed!  Every editor was impressive in his or her own right.
– Leigh Hogan
I found your website via Reader Unboxed. I've spent the last 45 minutes on your website, reading your posts on writing. I just finished my first novel and am in the editing stage. Just wanted to say good luck on your journey.
–  Terah Harris
I recently read your article 'Book Covers: How to Design Your Own' about a week ago. I am making progress on my manuscript for (girl) middle age readers, but doggone it; I am having drams about the book cover! Your article and reading many other parts of your wonderful web site, are helping me make progress. I just wanted to take a moment and say thank you!
– Gezil Andrews

Looking for an engaging speaker for an upcoming event?
Please e-mail me to discuss your speaker needs.
I'm available for
Book clubs
Book festivals
Book signings
Library events
Panel discussions
Industry roundtables
Private consulting for aspiring authors and independent publishers
Writing and publishing conferences
Virtual visits via Skype
School visits
Readings
Seminars
Workshops
Topics
My book subjects
Fiction writing
Character development
Independent Publishing
Marketing and Book Promotion
"I Finished My Book! Now What?"
"Selling Skills for Authors"
Barbara Morrison and I were at the Maryland Writers Association table on Sunday and developed a great style for engaging passersby. One or the other of us would ask passersby if we could tell them about our books. Getting a yes, she or I would talk about our books, then introduce the other one to talk about her books. Austin Camacho was with us too and he played the game too. Worked very well. In a 2-hour time slot, I sold 7 books. So Barbara said she'd been to a meeting where the speaker talked about how to increase sales at book shows by standing out in front and asking if we could tell the passerby about our books…I said I was at the same MBPA meeting! 'Erika', we said in one breath. So thanks, Erika, your talk was memorable and very useful.
– Eileen McIntire, author of Shadow of the Rock and The 90s Club series
I was very discouraged before talking with you. I got the inspiration/direction I need to continue. I'm excited to see where it will lead. I'll keep you posted. Huge thanks!
– aspiring children's book writer
Erika, you are such a treasure of a person – so willing to share what you probably spent endless hours finding out for yourself…Thank you for all this information and inspiring me to follow my dreams.
– aspiring picture book author

Freelance writer and marketing consultant by day, I offer the following services to B2B companies:
Ad development and copy
Article development and placement
Direct mail
Editing
Email marketing
Logo development
Newsletters
Marketing strategy
Media buying
Messaging
Press releases
Promotional videos
Search engine optimization
Social media strategy and management
Website layout and copy
Client Reviews
I absolutely love [our website] content! It is tied together beautifully…it's tighter and more compelling — thank you, Erika!
– CEO of a higher education consulting firm
[The leadership program agenda you developed] is just tremendous!  Thank you so very much, I love it. As usual, your stellar style shows through!
– vice president of a higher education consulting firm
Great job to you and the team on the brochure. It is much improved. This will be a useful tool to expand our membership.
– president of a quality improvement association
I just wanted to let you know that you did a great job on [our trade article]. Thanks so much!
– marketing director for a computer hardware company
Last night I read through this month's newsletter and was blown away. The video [you created] from [our annual meeting] is terrific. Great memories. I was laughing out loud as I read [the meeting recap you wrote]. Another fantastic issue! Thank you so very much for consistently delivering a great experience for our team.
– CEO of a higher education consulting firm

Thank you for interest in my freelance services, however, I'm not currently taking on new clients.