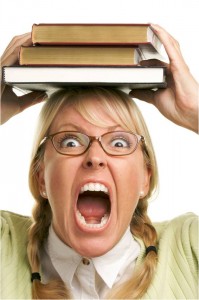 Today I'm taking a question from a reader. I've gotta be honest, I was hoping this one would never come up…
Reader Question: What's your favorite classic?
My official answer? To Kill a Mockingbird
The real answer? I probably shouldn't be admitting this, but…I don't really care for the classics. (That's me whispering, btw).
I know, I know…it's sacrilege to even think, let alone say such a thing out loud. But it's sorta kinda the truth.
In fairness, I didn't mind The Crucible or The Scarlet Letter. And I guess Lord of the Flies was okay. But I'm pretty sure I'm the only person on earth who's only made it half-way through The Great Gatsby, didn't understand the big fuss over The Catcher in the Rye, and hated (yes, hated) Crime and Punishment.
Maybe I have a small, uncultured mind, but the classics generally fail to capture and maintain my interest. I realize that books were written differently back in the day and that people also had longer attention spans, but still…I cringe when I think about reading one.
Is that awful? Too honest? Are you looking for the unsubscribe button as we speak?
Please tell me I'm not alone…are there any other writers out there who simply don't care for the classics?