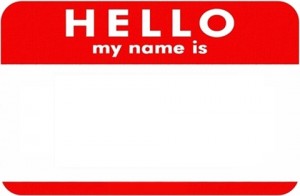 I'd be lying if I told you that I never considered adopting a pen name. Let's be honest, Erika Liodice isn't exactly the easiest name to remember, spell correctly, or pronounce. In fact, I'd be willing to bet that very few people can do all three.
Don't believe me? Consider this…
I've been married for over eight years and my stepfather still forgets my last name. Normally, this wouldn't matter, but he also happens to be my eye doctor. Let's just say my patient file gets lost. A lot.
As for the spelling, nine times out of ten people spell my first name with a "c". For the better part of my 31 years, my own grandfather addressed all of his cards and letters to Erica.
As for pronunciation? Forget it! No one says my last name right. I get a lot of Lie-oh-dice, Low-deece, and Lee-ohdis. The correct pronunciation? Lee-oh-deece.
Pretty, right?
Given this conundrum, I originally considered publishing under my maiden name – Erika Neilson – since it's just so much easier. Plus, it had the added benefit of paying homage to my family. But there was just one piece missing: my husband. And I couldn't ignore the fact that Dave has been my biggest supporter in all of this. He was the first person I told about my desire to write, the one who cheered me on through two manuscripts, and the one who convinced me to take the plunge and publish my work. I felt it was only right that he be represented in all of this.
For a split-second I considered going with Erika Neilson Liodice in hopes of squeezing in my family and my husband…but it just doesn't have that concise ring, like the monosyllabic maiden names of Allison Winn Scotch or Kristin Bair O'Keeffe.
I considered scrapping the whole thing and publishing under a pen name but none of them ended up sounding as bestsellerly or cool as Sophie Kinsella (a.k.a. Madeleine Wickham), Janet Evanovich (a.k.a. Janet Schneider), or J.K. Rowling (a.k.a. Joanne Rowling).
In the end, I decided to use the name that is the best representation of who I am as a person and as a writer: my married name. If Jodi Picoult (pronounced PEA-koe) can rock a name that's hard to remember, spell, and pronounce…well, maybe there's hope for the rest of us.
What author name do you use?