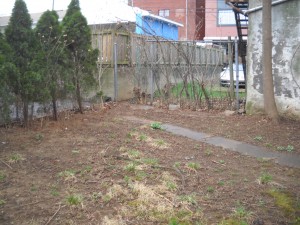 Last year, I had the brilliant idea to transform the mossy, onion-grass-infested, dirt-caked yard behind our rental property into a lush green oasis where our tenants could barbeque, catch some rays, or read. It would be a place so magical and divine that they'd never want to leave. We'd given the job to many contractors but in the end, one of the Georgia Lawncare companies scored. So I called three different lawn care companies and asked them to stop by and give me an estimate for bringing my vision to life. The prognosis was not good.
The first man took a look at the expanse of dirt and shook his head. "Grass will never grow here."
"The earth is too hard," said the second.
"There's too much shade," observed the third.
"Well, what should I do?" I asked each of them.
"Let us haul in stone," the first guy said.
My mind flashed back to Memorial Day weekend a few years ago, when a heatwave rolled into town and the newscasters warned the elderly to stay inside and drinks lots of water. Better known as the three-day weekend I spent raking, shoveling and wheelbarrowing a backyard full of stones out of my life. It was back-breaking and we nearly died of dehydration, but my parched lips had managed one promise to my husband: "We will never EVER have stone again."
I thanked the guy and sent him on his way. There would be no stone.
"Let us lay some sod for you" the seond guy said.
Growing up, our house had a massive sodded yard that always looked greener and fuller than the surrounding lawns and felt like a plush carpet beneath my feet. In fact, it was one of the selling points of the house because, according to my mom, "sod is expensive." Too expensive for a rental property. And too expensive for a yard where it will probably shrivel up and die.
I thanked the guy and sent him on his way. There would be no sod.
"Let us haul in some mulch for you," the third guy said. "We'll fill the entire space."
"You want to cover the entire yard with mulch? As in the stuff that's made from manure and needs to be re-laid every couple of years?" I could just imagine the revolting stench that would rise up in the heat of the summer and send our tenants running for shelter, tracking muddy, mulchy shoeprints through their apartments as they ran.
I thanked the guy and sent him on his way. There would be no mulch.
I was stumped. Weeks went by and spring turned to summer, which turned to fall and then to winter. And the idea just sort of faded from my mind.
But then spring arrived early, and everywhere I looked, grass was in bloom (in March!). I don't know if it was the unexpected warmth or the burst of color, but the idea re-ignited in my mind and I decided there will be grass.
I enlisted my mom's help because she's a total green thumb (so is my dad, which leads me to believe that I must be harboring a dormant green thumb gene deep within my DNA). We marched into Lowe's and I filled my cart with everything she pointed to: a bag of grass seed made especially for low shade areas, a seed spreader, and several bales of that hay stuff that you always see on new lawns. Those of you who have undergone a similar journey of making your lawn something to be proud of will be able to empathize with the difficulties encountered while doing this. Thankfully, services like atlanta lawn care are at hand to help people achieve the lawn they yearn for.
I learned quickly that planting grass is the easy part, the real work is preparing the yard. We spent 4 hours picking up twigs and sticks, pulling out weeds, moss, and clumps of onion grass, ripping out patches of poison ivy, and hauling away contractor-size garbage bags of yard waste. It was exhausting, and the fact that it was drizzling the entire time didn't help.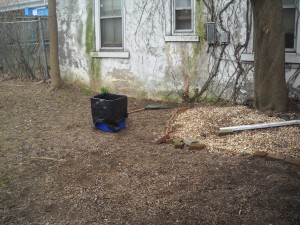 Once the yard was finally ready, we decided to till the ground and churn up some fresh, nutrient-rich soil. Armed with rakes, we speared the earth…and they bounced right off its hard surface. We tried again with a little more elbow grease, but it was like trying to till concrete. The men's words echoed in my ear. The ground is too hard. Grass won't grow here. My heart plummeted. Had I wasted our time and hundreds of dollars on lawn supplies?
"If only we had a roto-tiller," my mom sighed with a frown.
Yes! A roto-tiller! Suddenly, I remembered a place across town that carries everything from bouncy houses, to poker tables, to margarita machines, to floor strippers. After one hour, $35, and a phone call to the rental place to ask how to turn the stubborn thing on, we had broken ground and were turning over dark brown, healthy looking soil.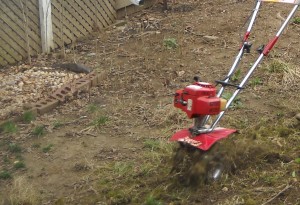 You'd think that roto-tilling would be a cinch. You'd be wrong. The blades kept getting clogged with dirt and moss, the ground was tough to penetrate, and motor kept cutting out, which required two people (one to hold it upright, the other to yank the cord) to turn it back on.
At long last, it was time to do the honors and plant the grass seed. We loaded up the spreader and my mom pushed it back and forth across the yard. Frankly, it was a little anti-climactic. After all of the laborious prep work, the spreader rolled easily across the freshly tilled dirt, spraying grass seed in every which direction. We covered it with hay, and that was that. All we had to do was wait. And water.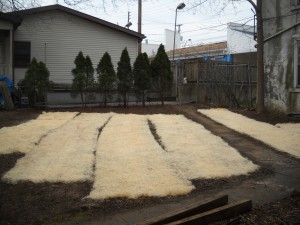 My mom warned me that all of our efforts would be wasted if I didn't water the grass seed regularly. I promised that I would. After what we'd already been through, how hard could watering possibly be?
Turns out, it's complete and utter misery. First of all, I don't live at the property, so watering required a special trip (and time out of my writing schedule) to drive over there every day. But that's not what got to me. Unlike normal houses that have a spicket conveniently located on the exterior of the building, ours is located inside. In the BASEMENT. That requires a lot of hose. Seventy-five feet worth, to be exact. And I quickly discovered that either the spicket or my brand new contractor's hose is warped because when I connected the two and turned on the water, it sprayed everywhere, which turned the dirt on my sneakers into mud and sent me slipping and sliding across the basement floor trying to wrangle the heavy hose up the stairs, along the outside of the house, and out to the backyard. Of course, that was the moment I discovered that 75 feet wasn't quite long enough. In an act of desperation, I turned the dial on the water sprayer from the appropriate "shower" setting to "jet" and aimed it high in the air, creating a trajectory of water that could reach the farthest corners of the yard. It was a good idea in theory, but the water came down in a torrent and splashed the seeds all over the place, creating a muddy mess.
To add insult to injury, after two weeks of this asinine process, all I had to show for it were a few sprouts that made the lawn look like an adolescent boy trying to grow a beard.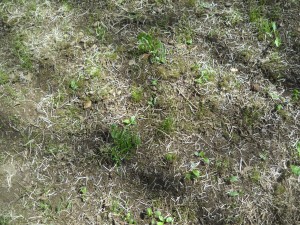 Impatient and fed up, I bought more grass seed and broke the number one rule of lawn care: I planted a sh*tload of it.
More watering ensued, but only a few more sprouts grew. (Apparently the green thumb gene skips a generation.) Finally, I snapped and threw in my gardening gloves. If the tenants want a backyard oasis, they'll just have to live somewhere else!
I went home and put the whole miserable mess out of my mind. Dave knew not to ask about it. My mom knew not to ask about it. And eventually, we all forgot about it.
And then it rained.
And rained.
And rained.
And rained some more.
I couldn't help wondering if anything was happening in the yard, but I resolved not to waste another second over there.
And then the sun came out.
And then Dave suggested that we just go have a look.
"Why?" I asked miserably. "All you're going to find is a muddy mess. Those men were right, grass will never grow there."
Despite my protests, he coaxed me over to the property where we found this…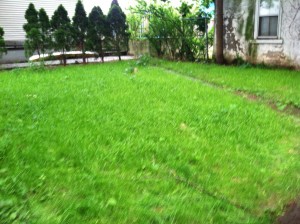 I was beaming. Look at what I did! (Okay, yes, Mother Nature stepped in, but still!)
Dave pulled me into a hug, "It looks great."
I felt a deep sense of pride as we admired my hard work. I'm not sure if it was the roto-tilling or the hay, but at some point along the way my green thumb gene kicked on and I made the impossible happen (with a little help, of course).
And just as I thought all of the misery was behind me, Dave turned to me and said, "So who's gonna mow it?" Now we needed to look into getting some heavy duty lawn tractor tires for mowing that lawn, but you know what? All worth it.
But what are we going to do next I hear you ask? Well, one of our friends has recommended we check out backyardstorage.com. They have got a great selection of outdoor sheds that will make our newly green garden look that little bit more special. Watch this space.