I've been a Live! with Regis and Kelly (and now, Live! with Kelly) fan for years, but I always wondered what it was like behind the scenes. Is the studio big? How many people are in the audience? What goes on during commercial breaks? And, is Kelly really that pretty/funny/tiny in real life? This past Wednesday, I had a chance to find out.  With two free tickets bestowed upon me by the fine folks at WABC, I invited my mother in-law and ventured into New York City to be part of the studio audience. Not only did the experience answer all of my questions, but I even learned a few things that surprised me…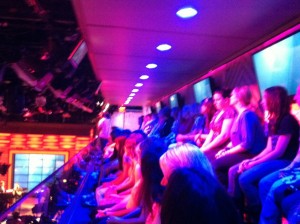 Even though the show goes live at 9:00am, the audience isn't seated until 8:45! Approximately 200 people were in attendance and the studio has upper and lower seating levels (I was in the upper level with a great view over the whole studio).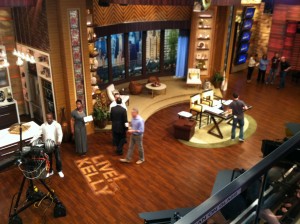 The studio is smaller (and colder) than it looks on TV, but there is plenty of room for the co-hosts' table,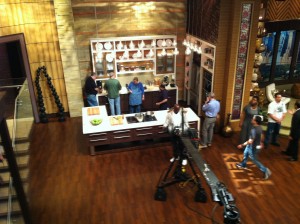 a working kitchen,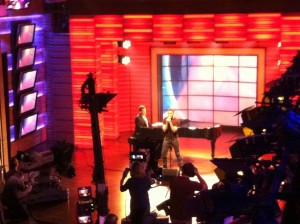 and a stage for musical performances. (We got to see Idol runner-up, Joshua Ledet).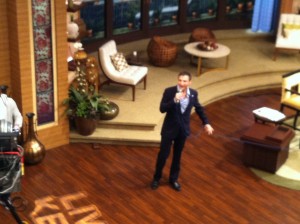 Right before the show starts, the infamous Gelman warms up the audience and makes everyone practice clapping, laughing, and oohing and awwwing.
(Did you know that in order to clap louder you should clap faster, not harder?)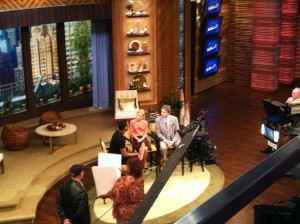 When the cameras start rolling, producers stand across from Kelly and her co-host (ours was Martin Short) with a marker and cue cards, jotting down topics and questions to help them keep the conversation rolling. (Sometimes I wish I had this in real life!)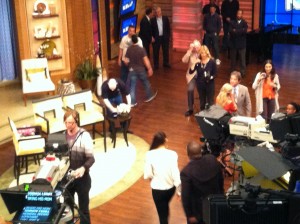 During commercial breaks, the crew moves the furniture and adjusts the teleprompters…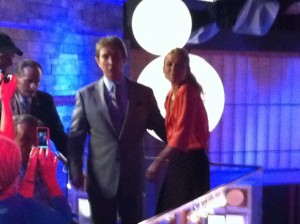 …and Kelly and Martin horse around with the audience. (Yes, she's really as tiny as she looks on TV! Even in 6-inch heels, she was still shorter than Martin Short. And her waist is about the size of my thumb!)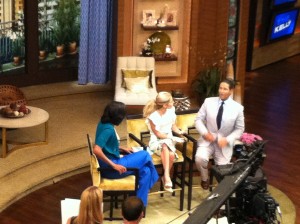 Despite the title, not all episodes of Live! with Kelly are actually live; some are pre-recorded. After the live episode wrapped, we were invited to stay for a taping of a show that will air in June. (They didn't have to ask us twice!) Kelly changed outfits, Martin Short was replaced by Bryant Gumble, and to our surprise and excitement, the special guest was First Lady Michelle Obama!!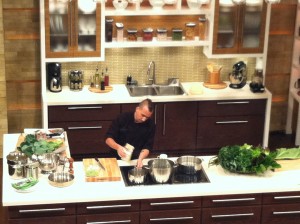 Iron Chef, Marc Forgione, prepared a balsamic reduction for a dish that he created on the fly using only veggies from the White House garden. (Despite the high ceilings and expansive space, delicious smells wafted through the studio and made my stomach growl).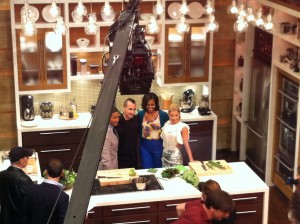 Even though both shows went off without a hitch and Kelly told us we were "the best audience ever", when filming wrapped we were quickly escorted out of the building and sent on our merry ways. We found out the hard way that the security guards won't take your photo near the co-hosts' table and you can't just hang around and hope to bump into Kelly.
Oh well, I guess that's show business.