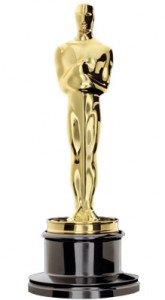 So…what did you think of The Oscars?
Aside from the beautiful gowns (my favorite is a tie between Gwyneth Paltrow's white Tom Ford gown and Michelle Williams's coral Louis Vuitton number), I was a bit disappointed. I thought the humor was yawn-inducing and I ended up going to bed about an hour before the big awards were presented. I'm glad I did because this morning I learned that The Artist won Best Picture. I guess I live under a rock because I'd never even heard of The Artist until last night (though now the whole "Le Jeunes de Paris" sketch on SNL makes more sense).
To be honest, I was hoping for a little more love for The Help. Not only do I love the dual success story of author Kathryn Stockett (who received over 60 agent rejections for The Help) and her childhood friend, filmmaker Tate Taylor (who received his own fair share of rejection)…but I thought it was a damn good movie.
Who were you rooting for?