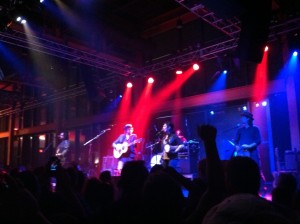 One of the things I love about music is its transporting effect, the way it can pull you out the present and deliver you to a totally different place and time.
We all have those special songs that whisk away. Some of mine are: "Daydream Believer" by The Monkees, which reminds me of being a little girl (I LOVED watching re-runs of their show and even went to a reunion concert when I was five or six); "Thong Song" by Sisqo, which takes me back to college; and "Bridge Over Troubled Water", which always reminds me of dancing with my dad on my wedding day.
Rusted Root evokes some special memories too, which is why I was so excited to have the chance to see them the other night when they came to Bethlehem to play at our new entertainment venue, SteelStacks.
To read about my experience at the show and some of my other musical memories, click here: "Rusted Root at SteelStacks"
What songs transport you?