It's been a LONG time since I've read a book that I would add to my list of All-Time Favorites, but recently, Erika Robuck's new novel, Hemingway's Girl (NAL), leapt to the top. This book surprised me because I'm neither a Hemingway fan nor one to dabble in historical fiction. But I quickly fell in love with Robuck's vivid Depression-era Key West as well as Mariella, her fireball protagonist and object of Hemingway's obsession, Pauline, his fascinatingly unbalanced second wife, the temperamental genius of "Papa" himself, and the dangerously glamorous world they lived in. By the end of this book, I must admit that Robuck managed to change my mind not only about Hemingway but the genre too, inspiring me to explore more of both.
With that said, I'm thrilled to have Erika Robuck join us today to tell us about her publishing journey, her obsession with Hemingway, and what the future holds.
Erika Liodice: Welcome, Erika! Tell us, when did you know you wanted to be a writer? How did you start out?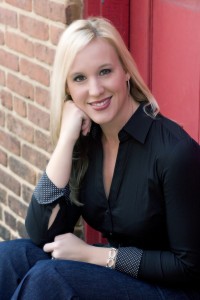 Erika Robuck: I started as a child writing poetry, plays, songs, and short stories. I eventually started working on novels in middle and high school, and minored in Literature in college. Once I began having children, and I was home with them, I committed to and fell in love with novel writing. I've been at it full time for ten years.
EL: Tell us about your journey to the publication of your first novel, Receive Me Falling.
ER: Receive Me Falling was inspired by my Caribbean travels and by wishing to tell the story of slavery in the West Indies. Because it was my first novel, I had no other publishing experience, and the book was a split genre, I had trouble getting an agent. In the meantime, many of my friends in book clubs wanted to read it so I decided to self-publish, visit book clubs, and see where it led. I had a very positive experience, but my goal was always to get a traditional publisher, which I now have.
EL: You recently released your second novel, Hemingway's Girl, which I absolutely LOVED. When did your interest in Ernest Hemingway begin?
ER: Thank you! My interest (obsession) began in college when I took a Hemingway course. I enjoyed his spare yet evocative prose, and found him personally fascinating. I also knew Hemingway committed suicide, so I think that always gave me a tender spot in my heart for him.
Three years ago, I traveled to Key West and took a tour of the Hemingway House. By the time I finished the tour I knew I wanted to bring readers to that place in his time. When I came home, I had a dream that Hemingway told me to write a book about him because he'd become irrelevant. I'm so glad I did.
EL: How did you research Hemingway's Girl? How long did it take? And what challenges do you face writing fictional accounts of real people?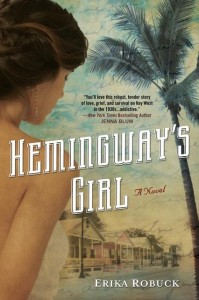 ER: The entire process, from the trip to Key West to publication, took about three years. I visited the house and Key West several times for setting research, read numerous biographies and all of Hemingway's work, and spent time at the JFK Museum in Boston at the Hemingway Archive. Ninety percent of his photographs, journals, letters, and manuscripts are there, and provide an excellent resource for getting to know and understand Hemingway.
My greatest challenge was portraying such a complex man, and one who had such a bad reputation, as the man of true depth, loyalty, and sensitivity I came to know through his letters and writings. While he did have a cruel side, Hemingway could also be a great friend and father. Balancing the different aspects of his personality with my fictional character's story was a challenge, but became easier once I'd spent so much time reading his personal papers.
EL: What was the most surprising thing you learned about Hemingway?
ER: I was most surprised to learn that Hemingway welcomed a young, homeless writer into his home and life for a year in Key West, and instructed him on writing and fishing. That took place the year before my book was set. There is a book written by the fortunate author called With Hemingway that I highly recommend to anyone interested in Hemingway and writing. His lessons are treasures embedded in the narrative about fishing.
EL: What was the publishing process like the second time around?
ER: Working with an agent and traditional publisher was entirely different and worlds better than working alone to self-publish. I enjoy the collaboration, brainstorming, and teamwork that go into the production of a novel. Deadlines and sales numbers give more pressure to the experience, but the rewards of hearing from so many more readers outweigh the stresses. I have been very blessed on my journey to work with wonderful people.
EL: What's your proudest accomplishment in your writing career thus far?
ER: Because my protagonist is a housekeeper, my proudest accomplishment was receiving a letter from a real housekeeper at the Hemingway house in Key West who was moved by the book. Celebrating the launch party with over one hundred of my family members and friends—people who have supported me for so long—was a close second.
EL: If you could give one piece of advice to a writer who's just starting out, what would it be?
ER: Keep writing. Don't put all of your energy into just one book. Make a long term relationship out of writing if you want to publish.
EL: Last but not least, what's next for Erika Robuck?
ER: I'm thrilled to have just signed another two-book deal with NAL/Penguin, and I'm working on a novel featuring the first female Pulitzer Prize winner for poetry, Edna St. Vincent Millay.
—
Thanks, Erika, for stopping by!
If you're interested in learning more about Erika Robuck and Hemingway's Girl, please visit: www.erikarobuck.com.