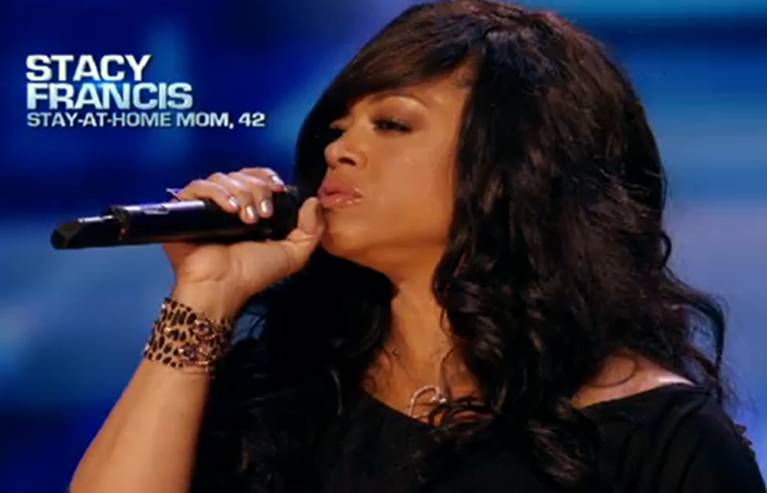 Dreams make us do crazy things. Mine has woken me out of a sound sleep and forced me to jot down story ideas. It's grabbed my steering wheel and guided me to the side of the road to write strings of dialogue. It's fueled me to get out of bed in the 5am darkness and write before work. It's stolen me away from my husband for days at a time. I spend each day with words bottled up inside of me just waiting to get out. Sometimes it makes me feel crazy. I often look at the people around me and wonder if I'm only one who behaves this way. But last night, the universe sent me a little assurance that I'm not.
I hadn't intended to watch X-Factor (you know, the new reality competition with Simon Cowell), but the batteries in our remote have been dying a slow and painful death which means that on occasion we get stuck on a channel that we don't really want to be on. (How people ever owned TVs that require you to get off the couch to change the channel is beyond me.) Thanks to last night's laziness, I got the opportunity to watch Stacy Francis audition for the judges. What first sparked my interest in Stacy was her passion. She revealed that she goes into the bathroom late at night, after her two children go to sleep, and sings to Aretha Franklin, Whitney Houston, or Celine Dion. She never followed her singing dream because the person she was dating told her she was too old and not talented enough. Sadly, Stacy started believing those words and eventually lost faith in herself. She described her audition on X-Factor as her "last shot" and told Simon, "I don't want to die with this music in me."
Then she sang. And chills literally ran down my spine. Apparently they ran down Simon's too because he described it as one of the best auditions he'd ever seen. As mascara tears ran down Stacy's cheeks, I thought about how we all have "music" inside of us just waiting to get out. Don't let anyone's words stop you from following your dream. Don't die with your with your music still inside of you. Share it with the world. Like Stacy, you were meant to.
If you missed Stacy's audition, you can watch it here: Stacy Francis Auditions for X Factor.