Originally posted on October 30, 2009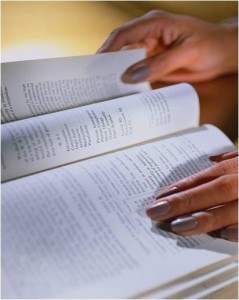 Whenever I finish a book that I love, I scour the author's bio trying to figure out what made him or her so amazing. I did this a few years ago when I finished Elizabeth Gilbert's Eat, Pray, Love and, believe it or not, there was one line from her bio that I found so insprirational, I never forgot it: Elizabeth went to college in New York City in the early 1990s, and spent the years after college traveling around the country and the world, working odd jobs, writing short stories and essentially creating what she has referred to as her own MFA program.
From the second I read it, I fell in love with the idea of creating your own MFA program based on your life's experiences. It got me thinking about self-education and how important it can be as we pursue our dreams. Too often people let fears of inadequacy and education scare them into believing that they need to invest their time and money into one expensive degree after the next in order to achieve their dreams. But in many cases, this is just an avoidance tactic that people use to delay taking action.
The concept of self-directed learning, or autodidacticism, is by no means new. In fact, some of the most influential people of the ages – Socrates, Descartes, Benjamin Franklin, George Bernard Shaw, Abraham Lincoln, Ernest Hemingway, Thomas Edison, and Malcolm X – were autodidacts. Some were thrust into it because they couldn't afford a formal education and others happened into it accidentally.
Business philosopher, Jim Rohn, says, "Formal education will make you a living; self-education will make you a fortune."
Don't believe him? Check out this list of some other self-taught legends:
Musician David Bowie

Magic duo Penn and Teller

Filmmakers James Cameron, Steven Spielberg, Quentin Tarantino, Stanley Kubrick, Woody Allen, and Steven Soderbergh

Musician Frank Zappa

Author Terry Pratchett

Poet William Blake
Even author Mark Twain is known to have said: "I have never let my schooling interfere with my education."
Please understand that my purpose here is not downplay formal degree programs, just to remind you of the merits of self-education. As Elizabeth Gilbert and countless others have proven, self-directed learning can go a long way in helping you acquire the skills, knowledge and experience you need to follow your dreams.
So I ask you, what does your MFA program look like?