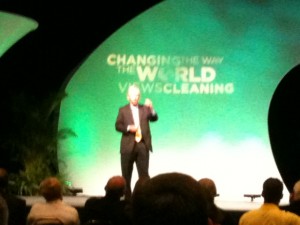 Last week I had the rare opportunity to attend a keynote given by business guru, Tom Peters. Considering his reputation, I had a lot of expectations when I walked into that Las Vegas auditorium…
I expected to be inspired. After all, this guy has written numerous best-sellers and mentored business leaders around the globe. And inspire he did, with mantras like: "You don't regret your mistakes, you only regret the things you didn't try."
I expected him to motivate us, which he also did: "Be the best. It's the only market that isn't crowded."
But what I didn't expect was for him to talk about kindness.
Yes, kindness.
Though I've always believed in the power of this simple virtue, it was nice to hear someone with such authority affirm its value.
Kindness. It sounds so elementary yet it's often the ingredient missing from business…and life.
I think he summed it up best when he quoted Henry Clay: "Courtesies of a small and trivial character are the ones which strike deepest in the grateful and appreciating heart."
I loved that so much, I had to share it with you in hopes that we will all face the world today with kindness in our hearts.