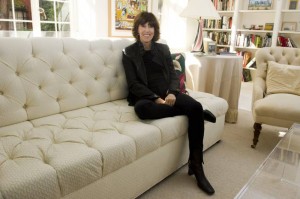 Yesterday morning I was cutting fruit for breakfast when I overheard the news in the other room: Nora Ephron had passed away. I stood there staring at the TV, my hands sticky with pineapple juice, stunned and thinking, How can this be? I didn't even know she was sick. 
Noticing my reaction, Dave asked, "Who was Nora Ephron?"
I told him that she was the writer and director of some of my all-time favorite films, like Julie & Julia, You've Got Mail, and Sleepless in Seattle.
Dave went off to work, but his question lingered in my mind all day. Who was Nora Ephron? The more I thought about it, the more answers came to mind:
She was an empowerer of women, urging us to "be the heroine of your life, not the victim." 
She was a journalist who wasn't afraid to voice unpopular opinions.
She was a woman who broke rules and shattered glass ceilings.
She was a cook who shared her recipes with the world.
The list goes on and on.
Nora Ephron managed to touch so many lives in so many different ways. For me, she was an inspiration. Her work fueled my passion for writing women's fiction and made me want to create love stories that move people, like hers moved me. 
Though her work will live on and continue to bring us joy in the years to come, her creative genius will be sorely missed. 
Who was Nora Ephron to you?
—