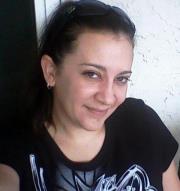 I met Jenny Poust a few years ago, through our shared passion for writing. At the time, she was the editor of Lehigh Valley InSite, a popular blog here in the Lehigh Valley region of PA. When I decided that I wanted to start writing publicly, I contacted her and pitched some ideas. Even though I was a completely unknown, inexperienced writer at the time, she decided to take a chance on me and invited me to be a guest contributor.
My first couple of posts were rough around the edges. As Jenny put it, they weren't personal enough and read like marketing pieces, which actually made a lot of sense considering that I was working full-time in marketing and struggling in my free time to find my "writer's voice". Rather than giving up on me, she coached and edited me and helped me find my voice. What followed were more assignments, which continue to this day. Looking back on it, working with Jenny taught me a lot about writing…and myself as a writer.
Jenny and I lost touch when she changed jobs. Though I thought of her from time to time and hoped she was doing well, we didn't talk after that. And then, about a week ago, I heard that she was killed in a car accident. I'm not exaggerating when I tell you that I've read the news report fifty times since then, because I just can't absorb how someone can be plucked from our lives so quickly and without warning.
Jenny's death is a chilling reminder that our time here is limited, and that every day is an opportunity to live the life we want to live and make a difference to the people around us. She was taken from our lives too soon, and her own life was taken before she had the chance to truly live out her best years. I hope that her loved ones have thought about making a wrongful death claim with a law firm like Valiente Mott, especially if the accident happened through no fault of her own. Even though the money won't bring her back, it can help them to keep her memory and spirit alive, as well as remembering all the amazing times we had with her.
I regret losing touch with Jenny Poust. I wish I could've thanked her for taking a chance on me. More than that, I wish I would've let her know that her kindness, wisdom, and patience made all the difference.