For some people, dreams are born in childhood. For others, they're not discovered until later life. For dream chaser, Rita Roberts, it wasn't until her children were grown and out of the house that she discovered her love of antiques, archaeology, writing…and Crete. Today, Rita joins us to share how she turned her hobbies into a fulfilling retirement on a beautiful Greek isle…
Q: Tell us about yourself. What's your dream?
RR: My name is Rita Roberts and I am retired and living in Crete. My former day job was as a Pottery Analyst for the Hereford and Worcester Archaeology Department in England.
I was married at the age of 20, so strange as it may seem I didn't have a special dream; I was quite happy bringing up children and generally happy with married life. Of course that was until – like many mothers – I discovered that when the children have grown up and hubby is at work all day, I was left on my own.
Q: Tell us about a time when you found yourself in the gray. What finally inspired you to make a change? What changes did you make? What was the result?
RR: It was at this stage in my life that I began a part time job, which unfortunately did not last long as I became ill and was diagnosed with tuberculosis. I hit an all time low. I felt that I had been lifted from my home and dumped in the hospital where I knew no one. Worst of all, I was not allowed any visitors for three months, except my husband. As everyone knows T.B. is highly contagious; I missed my children terribly.
Once I was well enough, I decided to look for my own "therapy" to help lift me out of a deep depression. I did this by searching in bookshops and libraries, hoping to find something that would catch my eye, something I could take an interest in. I was hoping this would develop into a hobby that I could concentrate on and thus deviate away from the depression.
Finally, I found that collecting antiques seemed like a fascinating subject so I began my research by reading as much as possible and attending antique auctions. This was the beginning of the new me. Eventually I opened my own small antique shop and later went on to become an archaeologist. If you're anything like me and a have an expansive collection of antiques that you're increasingly running out of room for, using Boombox Storage services might be able to help you out by providing you with some space for it all. They take care of picking it up, storing it, and delivering it so it really is worth considering.
Some time later I experienced another difficult time: the death of my husband, which only time heals. Little by little, I emerged once again from the gray and later discovered I did have a dream – many dreams, in fact – which I began to work on.
Q: You recently did something that many of us dream about doing – you uprooted your life and moved to a dream destination, Crete. Tell us about that.
RR: It was eight years ago when my partner and I uprooted our lives and moved to the beautiful island of Crete. It took some time to organize everything: selling my home in England and closing down the business I ran for nine years, hiring a twenty-foot container to ship our furniture, and reassuring family and friends that they would still be seeing us in the future…especially when they came to visit for their holidays, which would give us more quality time together.
We had already carried out some research when we were on a previous holiday to Crete, so we had some idea of the budget needed to buy a property and the legal people to consult. The most challenging part was that all the paperwork we needed to sign was written in Greek. We panicked a bit until we were able to find an interpreter, then all went smoothly. And although many of the Cretan people speak some English, we try to converse with them in their language as much as possible.
Q: What's next for you?
RR: I have recently written an autobiography, which I hope to get published. The reason I wrote a memoir was in the hope of inspiring not only mothers whose family have grown up and left home but also those who have been through the gray days as well as retirees who need an interest to fall back on so as not to get bored with nothing to do.
Q: What inspires you to keep pushing forward when the going gets tough? Any regrets?
RR: I think about all the people who are seriously ill and deprived of quality of life or those who are poor and starving in far-off countries and I remember how lucky I am, especially living here in Crete. I have been able to carry on my interest in archaeology, studying the Minoan pottery. I feel I've reached my ultimate dream and I have no regrets in my life whatsoever.
Q: If you could give one piece of advice to someone else who is struggling to move beyond the gray and follow a dream, what would it be?
RR: You never know what you are capable of until you try. This is how you find fulfillment in life, through achievement. So my advice is look for a hobby that really interests you, one that you want to continue learning about it. Focus on something you have always wanted to do and go for it. If you have a dream, pursue it. Try to make it happen, even if it's late in life.
Life is short. Live it and be happy.
**UPDATE (5/19/2011)**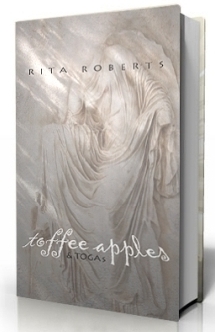 Rita's new book, Toffee Apples and Togas is now available on Amazon!
You can connect with Rita Roberts by visiting her blog at www.ritaroberts.wordpress.com.
Are you chasing a dream? If so, I'd love hear from you!
E-mail me at: erika (dot) liodice (at sign) hotmail (dot) com