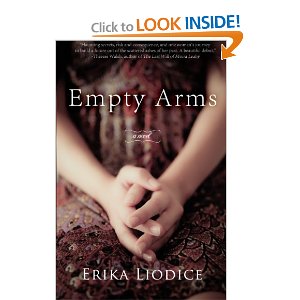 Today is an EXCITING day!! First of all…Empty Arms is finally available in paperback!
Contest…
To celebrate this long-awaited day, I'm giving away a free copy to one lucky reader. All you have to do is follow these 2 easy steps: 
1) 'Like' Empty Arms on Facebook (if you've already done this you can proceed to step #2)
2) Leave a comment below today's Facebook post (the one that announces the contest)
The small print: Contest ends tonight at 11:59 PM EST. One lucky winner will be selected by random number generator and announced tomorrow morning on this blog and over on the Empty Arms FB page.
(Friendly reminder: Comments left here won't be counted as entries, though you're more than welcome to leave me a comment if you'd like.) 
Here's what readers are saying…
"Erika Liodice's Empty Arms is a compelling novel about haunting secrets, risk and consequence, and one woman's journey to build a future out of the scattered ashes of her past. A beautiful debut." – Therese Walsh, author of The Last Will of Moira Leahy and co-founder of Writer Unboxed.
"One of the best books I've read all year." – Brianna Soloski, book reviewer at Girl Seeks Place. 
     Read the full review.
"Erika has shown incredible depth and maturity for a debut novel by writing characters who we could expect to meet at our neighborhood diner or a high school reunion. This is what Women's Fiction can be when placed in the hands of a capable and thoughtful writer who is willing to tackle difficult topics without resorting to pat answers. If this debut novel is any indication, I believe Erika has a long and happy writing career ahead of her." – Suzanne Anderson, book review at Reader Unboxed.
   Read the full review.
6 Great Reasons to Buy a Copy:
1. You like my writing. If you've enjoyed my blog posts and articles over the past 3 years…why not check out my fiction writing?
2. Adoption, parenthood, or infertility has touched your life. Empty Arms explores these subjects while shedding light on the experiences of an entire generation of women who were forced to surrender their babies for adoption.
3. It's cold outside and you need a book to curl up with. I've been told that Empty Arms pairs well with a roaring fire and a cup of tea or hot chocolote. I'm gonna go out on a limb here and predict that it probably also pairs well with a glass of wine.
4. You want to support my dream. If I've inspired, motivated, or encouraged you to follow your dream and you want to do the same for me, this would be a great way to help me make my dream a reality.
5. You need a book for your book club. Every copy of Empty Arms includes a Reader's Club Guide. Plus, I'm available to attend your book club meeting (via phone, Skype, or, depending on your location, in-person) for a lively discussion. (Please send your book club request to: bookclub@erikaliodice.com)
6. It's for a good cause. I'll be donating 10% of the proceeds to Save the Children, because at the heart of every adoption story is a child. Sadly, there are millions of children around the world who don't have a family to love them, clothes to keep them warm, food to nourish their growing bodies, a safe place to sleep, medicine to keep them healthy, or a decent education so they can thrive in this world. I'm proud to be supporting this fine charity through the sales of my novel, Empty Arms. Together we can help save the children.
—
Buy a copy…
You can buy Empty Arms in paperback on Amazon: Empty Arms paperback
And for all of you e-readers out there, the e-book versions are available at:
 Happy reading!